---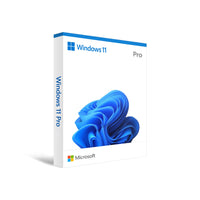 Sale
MICROSOFT WINDOWS 11 PROFESSIONAL 32/64 BIT Retail 

Allows Windows 11 home to be upgraded to Pro.
Microsoft Windows 11 Professional has become the most popular operating system in the world. It is intuitive and easy to use, and features improved security to help keep your PC safe. Windows 11 also features Fast Startup, designed to reduce the time it takes for the computer to boot up from being completely shut down. Additionally, the Start Menu is available in an expanded and customizable format. Windows 11 is also the perfect operating system for running Microsoft Office 2021 software.
Simple And Easy To Use
Windows 11 provides a similar Start Menu to other versions of Windows, but now provides quicks access to all your favorite tools. The familiar start menu is back and better than ever, to give you quick access to your most important tools. Users can also customize the menu and choose which folders appear on the Start link.
Faster Startup
The Fast Startup feature in Windows 11 allows your computer to boot up faster after shutdown. This is partly because, when you shut your computer down, it will put your computer into hibernation mode rather than a full shutdown. It also features a Battery Saver, prolonging your battery time, allowing you to work and play for longer periods when disconnected from a power source.
Security
Windows 11 has improved its security features, including virus and threat protection, malware protection, scanning of the device for threats, and advanced anti-ransomware features. BitLocker is also available to help protect your data with encryption and security management.
Windows 11 Compatibility
Windows 11 is compatible with the applications that operate on Windows 7 or Windows 8/8.1. This means that you will not risk losing any files or documents saved on previous versions of the operating system.
Digital Assistance
Cortana is Microsoft's personal digital assistant, designed to help save time and stay focused on what needs to get done. Among other things, Cortana helps you manage your calendar, create and manage lists, set reminders and alarms, and opens apps on your computer.
All-new Microsoft Browser
Microsoft Edge is Windows 11 supported browser. Edge is available on all supported versions of Windows, macOS, iOS, and Android. It also allows users to sync passwords, favorites, and settings across multiple devices.
Multi-Tasking
Windows 11 is a great way to stay organized and productive. Windows 11 allows you to open up to four applications on the screen at once – known as screen splitting. You can also create virtual desktops on the same machine for when you need more space.
Remote log-in.
Windows 11 enables you to log in with Remote Desktop to sign in and use your Pro PC while at home or on the road.
Virtual machines.
Windows 11 supports virtual machines, which allows you to run more than one operating system at a time with Hyper-V.
Your apps in the Store.
Windows 11 allows you to create your own private app section so that you can conveniently access your favorite apps. 
| | |
| --- | --- |
| Includes: | Microsoft Windows 11 Professional |
| Installation Method: | Digital Download |
| Devices Supported: | 1 Device |
| License Term: | Indefinite |
| Minimum Hard Drive Space: | 16 GB |
| Minimum Memory: | 1 GB |
| Minimum Processor Speed: | 1.0 GHz |