---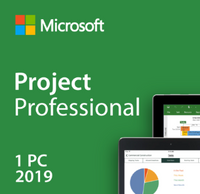 Sale
Microsoft Project Professional 2019 - Full Retail Version - 32 bit/ 64 bit - Backup USB with Image for Install. 
 Get started quickly and deliver winning projects.
Microsoft Project Professional 2019 is the business edition of Microsoft's project management software. Project Professional 2019 gives your project managers the ability to start projects, assign resources, manage tasks, track progress, and manage the project from start to finish. Microsoft Project 2019 Professional is designed to bring you more advanced features than before, giving you the ability to manage projects of all sizes. Microsoft Project Professional 2019 has all you need for managing expenses, allocating resources, and tracking schedules.
Project 2019 Features
Create budgets, manage workloads, allocate resources.  Assign resources and tasks and let Microsoft Project calculate the cost equals work times the rate.
Project 2019 Professional works with Microsoft Office Project Server and Microsoft Project Web Access. With Project server, store Project data in a central database.
Project Web Access  lets users display and update data online. Web Access allows authorized users to access a Project Server database across the Internet. With web access, you can access timesheets, graphical analysis of resources, and administrative tools to make project management easier and more efficient than ever.
Create custom objects  such as calendars, tables, filters, and fields; store in an enterprise global database all users can share.
Project 2019 Professional gives you more advanced features that let you evaluate and optimize a project portfolio to prioritize business objectives. Close integration with Power BI gives you advanced analytics so you are always on top of everything you need to make informed decisions.
Resource management features  in Project 2019 gives you insight into how resources are used. New tools allow you to collaborate more efficiently. Simplified task and time management allows your teams to apply updates from anywhere.
New in Project 2019 Professional
New advanced features in Microsoft Project 2019 Professional edition include tools for better performance, better security, advanced reports, flexibility, and accessibility. The collaboration features are built around SharePoint Server 2019.
With Microsoft Project 2019 Professional, your business, regardless of size, will have the tools needed to compete in the business world. Manage your projects, large or small, with more efficiency, better tools, and more money in your pocket.
Requirements
These are minimum system requirements for installing Microsoft Project 2019 Professional (1 PC)
Required Processor: 1.6 gigahertz (GHz) or faster, 2-core
Required Operating System: Windows 10, Windows Server 2019
Required Memory: 2 GB RAM (32 bit); 4 GB RAM (64 bit)
Required Hard Disk Space: 4.0 GB available disk space
Free shipping in the States, USPS First Class with tracking.