---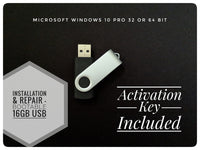 Sale
Windows 10 Pro Installation or Repair Recover Install USB drive with Retail License 32 & 64 Bit Key Code
Windows 10 Professional (Pro) USB Drive (8 or 16GB capacity) & Official (Genuine) activation key
USB Drive is bootable and comes with a full version of Windows 10. When you use the key provided, the full features of the Professional version will be unlocked and your installation of Windows will be permanently activated. The key provided cannot be used to upgrade from your currently installed version of Home to Professional (unless you choose to do a full and clean installation of Pro from scratch). The key is for Fresh installs Only. 
You must be technologically adept and know how to boot from USB as well as install Windows (while creating backups to prevent important data loss) to purchase this. If you are not knowledgeable we would suggest instead using a professional computer shop to take care of your need or do a search on the web on "How to boot windows 10 from USB Drive".
When you receive the USB please email us at kastoff.store@gmail.com to follow up on the key that was digitally delivered your registered email address when you made you purchase. This is to ensure the key works for you and so we can provide you personal service at the time of install.
The USB Boot Drives are made with software from Microsoft Website. This product doesn't include a box . Licenses are obtained from a Microsoft Authorized Vendor and are activated through Microsoft's validation system ensuring that you are buying a legitimate Windows License.