---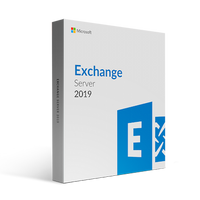 Sale
Microsoft Exchange Server 2019 Standard
Digital delivery within 24 hours or sooner (within 1 hour dispatch usually)




Included in the package:
Deployment features in Windows 10 Enterprise include:
Sideloading: Sideloading allows Windows Store apps to be installed on Windows machines.

Mobile Device Management: Phones, tablets, and other devices running Windows 10 can be centrally managed by IT. Windows 10 machines can connect to a Mobile Device Management (MDM) server that will enroll and configure the devices and can apply updates and enforce the in-house policies governing usage.

Azure Active Directory Features: Azure Active Directory (Azure AD) is Microsoft's multi-tenant, cloud-based directory and identity management service providing single sign-on access to thousands of SaaS applications like Office365, Salesforce.com, DropBox, and Concur. Microsoft integrates Azure AD with Windows to reduce the number of passwords users will need to remember. By linking Windows 10 devices to Azure AD, users can sign into Windows using their Azure AD account and password. The same devices can be automatically enrolled in a mobile device management service simultaneously.
More Features:

Granular UX Control
Allows IT managers to customize and lock down the user interface of a Windows device to restrict the machine to a specific task.

Enterprise Mode Internet Explorer
Older intranet sites often don't render or behave as intended in more recent browsers. To address this issue, Internet Explorer (IE) 11 introduces Enterprise mode to simulate an experience closer to IE8. This lets newer browser features that could cause errors to be disabled. It also provides tools for management and monitoring of compatibility.

Device Encryption
As in Windows 8.1, if Device Encryption is enabled, all drives are automatically encrypted and can only be unlocked by someone with the user account's password. Device Encryption used BitLocker and 128-bit AES symmetric encryption. It supports a recovery mechanism where the recovery key is stored in Active Directory Domain Services.

Group Policy Management
Like earlier Windows operating systems, Windows 10 physical and virtual machines and devices can be managed using Group Policy settings. This lets IT configure user the computers in your company.
Windows 10 Enterprise is designed for business. If you want the advanced security, better functionality for business, and better ways to manage your company's success, Windows 10 Enterprise is the Windows OS for you.


System Requirements
These are minimum system requirements for installing Microsoft Exchange Server 2019 Standard
Processor: 1.4 GHz 64-bit EMT64 or AMD64 processor, Quad Core Recommended for production systems. Support for security features like NX Bit and DEP (Dat)
Execution Prevention): The processor should support CMPXCHG16b, LAHF/SAHF, and PrefetchWNeeds. Needs to Support EPT or NPT (Second Level Address Translation)
Disk Space: For Core installation, a minimum Disk Space of 32 GB is required. An additional 4 GB is necessary for GUI installation.
RAM: 512 MB ECC supported Memory Modules 800 MB for VM Installations, post-installation, reduce RAM to 512 MB.
Disk Controller: Needs to be a PCI Express Compliant Disk Controller. ATA/PATA/IDE/EIDE is not supported for either boot, page, or data.