---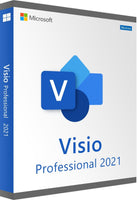 Sale
**Digitally delivered to email**
Affordable. Genuine. Fast.
Microsoft Visio 2021 Professional – Setting the Standards for Data Visualizations
Microsoft Visio 2021 Professional sets benchmarks that leave the competition playing catch-up. Powerful and versatile, it integrates seamlessly with the rest of the office suite. This makes it easy to create stunning data visualizations with data imported from programs like Excel and Access.
But this is only scratching the surface of what Visio 2021 Professional is capable of. Below are just a few of the many features and benefits of including Visio in your office productivity suite.
Versatile – Visio 2021 is an incredibly versatile tool that can be used to create all types of diagrams, charts, graphs, and even floorplans. From organizational charts to workflow flowcharts and from restaurant floorplans to complex data visualizations, the list is endless.
Templates, shapes, and symbols – There are thousands of objects included with Visio 2021 Professional. These include templates to help you get started, thousands of shapes and hundreds of industry-standard symbols.
Intuitive to use – Even new users can quickly create stunning visualizations thanks to the familiar and intuitive interface. With contextual hints and tips to help you on your way, Visio 2021 is quickly mastered.
Office Integration – Because it is part of Microsoft's Office suite, Visio 2021 integrates seamlessly with its sister apps. This allows data to be imported directly from Excel and Access, and with linked data capabilities, this means your charts and graphs change as your data is updated!
Collaboration made easy – Visio 2021 is designed to work seamlessly with remote working practices and collaboration within teams. With support for cloud computing services like Azure and OneDrive, and simple file sharing and editing, Visio makes teamwork and collaboration easy.



System Requirements for Microsoft Visio 2021 Professional
Below is a list of the minimum system requirements for Visio 2021 Professional. If you need any assistance finding the specification of your device, check out our useful guide, which you can find here.
Processor - 1.6GHz or faster 2-core processor
RAM – 2GB (32-bit) 4Gb (64-bit)
Operating System – Windows 10, Windows 11, Windows Server 2019, Windows Server 2022
Hard Disk – Requires 4Gb of free space
Display and Graphics – 1024 x 768 Minimum resolution and a graphics card capable of running DirectX 10
This Package is for Windows 10 or Newer Only. Please ensure you check your compatibility.